I think we're all ready for the windstorm tomorrow. I just checked weather.com, and it looks like we'll be having 25 to 30 mile an hour winds tomorrow, and 30 to 35 on Monday. Of course they don't say if that's gusts or sustained winds. Either way, it'll be better than the 90 mile an hour gusts and 40 foot swells they were predicting for the coast this weekend!
The garbage cans are in the garage and there's not much else that can blow away. If the power goes out, we have plenty of firewood, oil for the lamps, and propane and white gas to cook with, so we'll be ok. The pantry is stocked so we don't have to open the fridge or freezer if that happens. I'm doing as much laundry as I can tonight (as much as I can since I didn't think about it till 8:00!), since Sunday is laundry day. So I think we're ready to take whatever comes.
In the meantime, I'm getting ready to get started on my next bit of crafting - Christmas coasters for my swap partner. I have two patterns I'm thinking about, so stay tuned for details. Here's the fabric I picked out -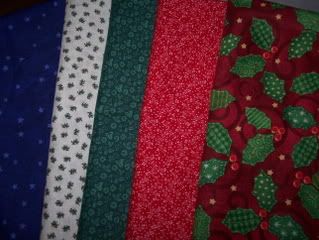 Hard to see the detail, I'm sure, but it's a navy with stars, a cream color with holly sprigs, a green with a tiny leafy pattern, red with a tiny white leafy/floral kind of pattern, and the big holly fabric.
Picking out the fabric took me 45 minutes. Yes, 45 minutes, for five pieces of fabric. And now I remember why I don't do this - I SUCK at colors and prints! So if anybody leaves me a comment and says "ewwwwwwwwwwww - those fabrics don't go together at all!", well, you and I are going to have a little problem... :-) The big holly print is definitely going to be the back, regardless of which coaster pattern I use.
I sewed the edges today and they're in the laundry pile. So tomorrow I'll break out that rotary cutter and mat that I haven't opened since I received them last Christmas, and try to figure out how to cut a straight square!
Hope you all are having a great weekend, and don't blow away if it's stormy where you are!