Well, the swap is over, I mailed my package off on Tuesday. I received my partner's package yesterday - what a wonderful gift!
We were supposed to send, at minimum, a handmade ornament, a recipe, and a tradition "tutorial".
First, here's most of what I sent to my partner.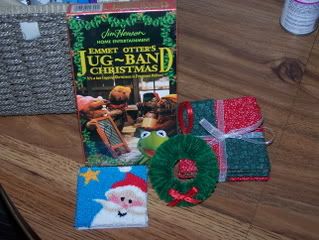 There are two handmade ornaments. The Santa is a punchneedle ornament. It's a nifty, easy little needlecraft that actually holds my attention because I don't have to think too much! Just fill in between the lines... I did discover while putting it together that I'm a bit glue challenged, but I think I just need more practice, LOL!
The wreath is also handmade. I found the pattern on the Martha Stewart website - it's made out of chenille sticks. Easy and it looks really cute when it's done!
I also made those coasters that I already told you about, just because I thought they were cute.
My holiday tradition is Emmet Otter's Jugband Christmas. I bought her the VHS copy because, for some reason, when they produced the DVD version, they cut Kermit's introduction out of it, which is just plain wrong! I included a note with it that explained that this is the only Christmas special that I make sure not to miss each year, and that I usually watch it while decorating the tree (though not this year, because hubby decorated the tree with me, so I'll watch it while wrapping gifts).
I sent two recipes. One was for
pork tenderloin with balsamic-cranberry sauce
. I included this one because this is the entree I made the year I cooked the entire Christmas dinner by myself. I also included my favorite recipe for caramel corn.
To go with the caramel corn recipe, I included a package of Moose Munch (that's Harry and David's caramel and chocolate-covered popcorn, for those of you who don't know).
All in all, it was a very fun swap and I might even do another one in the future!