I don't know what to call this. In my never ending quest to find a meatless meal that my meat-loving hubby will accept, I took a Butter Chicken recipe and made it vegetarian. My daughter took one bite and declared it disgusting. I thought it was wonderful, and hubby said he'd eat it again, but it would be better with chicken or something, LOL.
Now, I've never had butter chicken (or any variation thereof), so I don't know what it's supposed to taste like, but this worked for us!
Vegetarian Butter "Chicken"
Adapted from a recipe from the
Stone Soup Virtual Cookery School
Serves about 6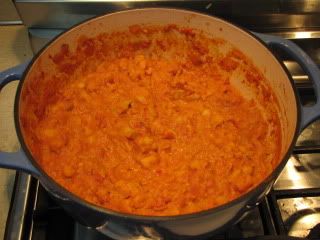 2 medium russet potatoes, peeled and diced
1/2 large head cauliflower, chopped into small florets
2 tablespoons olive oil
1 small onion, chopped
2 tablespoons curry powder
1 tsp. red chili flakes
1 26-ounce box chopped tomatoes, undrained (I used Pomi brand)
1 15-ounce can chickpeas, drained and rinsed
1 tablespoon unsalted butter
3 tablespoons heavy cream
salt
pepper
chopped nuts for garnish, if desired
Bring a large pot of salted water to a boil. Add potatoes, and cook five minutes. Add cauliflower and cook an additional five minutes. Drain and return the pot to the stove. When all the water has evaporated, add the olive oil and warm over medium-high heat. Add the onions and saute until soft. Add curry powder and chili flakes and saute for one minute. Stir in tomatoes, potatoes, cauliflower and chickpeas. Simmer 15 minutes or until potatoes have broken down and thickened the sauce. Reduce heat. Add butter and cream, stirring until butter is melted and combined. Salt and pepper to taste. Serve hot topped with chopped nuts, if desired (I used cashews).