Well, it's been a little while since we've been able to work on it, but the herb garden is finally in! Yay! Here's a picture:
It's not full of plants yet, but here's what I have so far (clockwise, from the front):
Bed 1: Parsley, stevia, bay laurel, lavendar, and chives (this is one of my "miscellaneous" beds).
Bed 2: Lemon balm and lemon thyme (this is the "lemon" bed - I want some lemon verbena and then I have to see what else I can come up with that will fit).
Bed 3: Apple mint and peppermint (this is the mint bed - there are a couple of others I want to get).
Bed 4: Marjoram, cilantro, and pineapple sage (another "miscellaneous" bed).
Bed 5: Basil, oregano, rosemary, sage (this is the "Italian" bed).
I'm still collecting plants, and I'll probably fill in with some annual flowers because I know eventually the herbs will fill the beds, but it'll take a year or two.
Also, we put the capstones on the wall, and we started ripping out the sod. It's a giant pain in the patootie, though, so we're going to rent a sod cutter to finish it.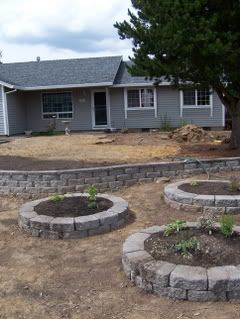 That's about it for now. We're plugging along, slowly but surely. Some of the neighbors stopped by while we were working to tell us how nice a job we're doing and how it's going to look great when we're done. I'm glad they understand that we're working on it, because it looks pretty darn bad!!!