When your cat comes home from the vet looking like this...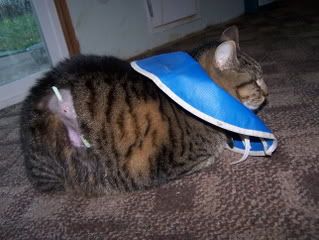 ...you know your cat is not a bully! According to the vet tech: the bullies get it on the top of their heads and their faces. The victims get it toward the rear as they're desperately trying to escape.
So yep, it's official, Puck is not a bully...
One morning late last week he came in and had trouble jumping. On Sunday I noticed a big old squishy lump on his side. We got him to the vet yesterday, and he had an abscess, as we suspected. They did a little minor surgery to put a drain in, and sent him on his not-so-merry way.
I don't know who has it worse - Puck, for not being able to go outside till the weekend, or us, for having to listen to him whine and cry because he doesn't like being stuck in the house (for those of you who don't know, trying to force Puck to stay in the house causes all kinds of lovely consequences, like him peeing on our pillow-top mattress out of spite).
Overall, he seems to be doing ok with it. Other than, of course, the part where we have to flush it out twice a day and force antibiotics down him. Fortunately, it's Wednesday, and we get to take him back in on Friday to have it removed... But the dogs haven't been too obnoxious, and we made him a nice cushy bed in the garage so we wouldn't have to listen to him cry all night about how he wanted to go outside. He even used the litter box for the first time in months!
He's going to look a little funny till that shaved patch on his side grows back in, but we're just glad he's going to be ok...